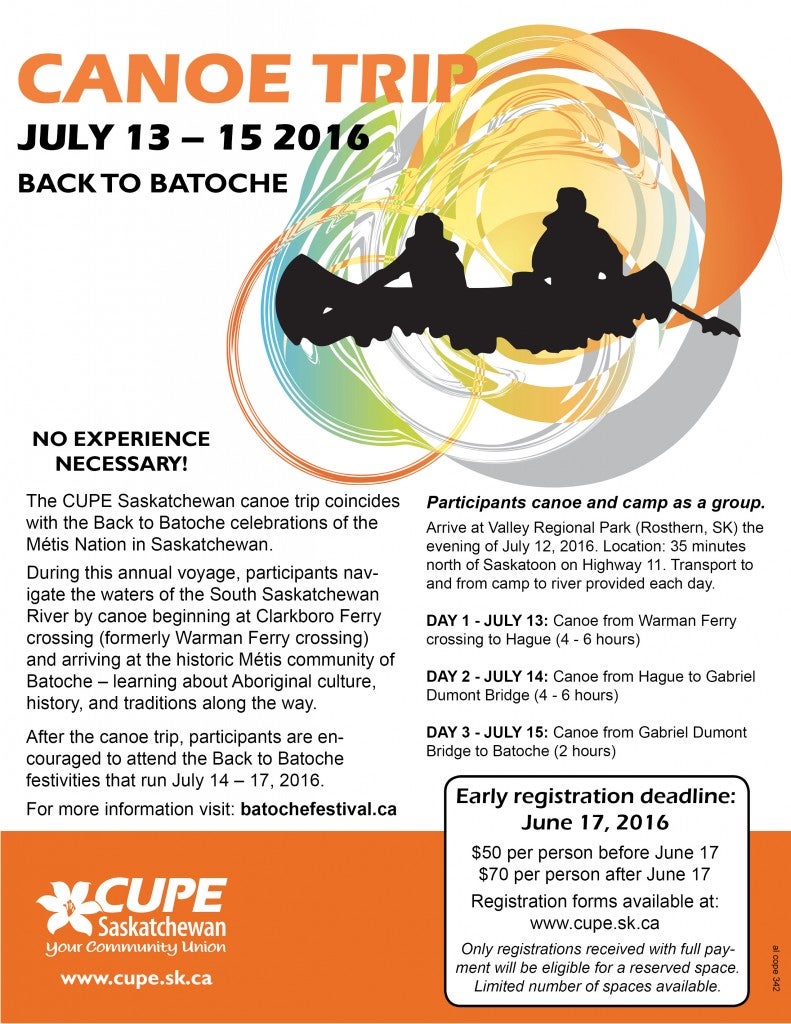 Update: Registration for this event is now full but interested individuals may contact us to be put on a waiting list should anyone withdraw their registration.

The CUPE Saskatchewan canoe trip coincides with the Back to Batoche celebrations of the Métis Nation in Saskatchewan.
During this annual voyage, participants navigate the waters of the South Saskatchewan River by canoe beginning at Clarkboro Ferry crossing (formerly Warman Ferry crossing) and arriving at the historic Métis community of Batoche – learning about Aboriginal culture, history, and traditions along the way.
NO CANOE EXPERIENCE NECESSARY!
EARLY REGISTRATION DEADLINE: June 17, 2016
$50 per person before June 27, 2016
$70 per person after June 27, 2016
Download the registration form HERE.
Only registrations received with full payment will be eligible for a reserved space. Limited number of spaces available.
After the canoe trip, participants are encouraged to attend the Back to Batoche festivities that run July 14 – 17, 2016.
For more information visit: batochefestival.ca
Camp at Valley Regional Park, Rosthern, SK.
Canoe the South Saskatchewan River.
Participants canoe and camp as a group.
Arrive at Valley Regional Park (Rosthern, SK) the evening of July 12, 2016. Location: 35 minutes north of Saskatoon on Highway 11.