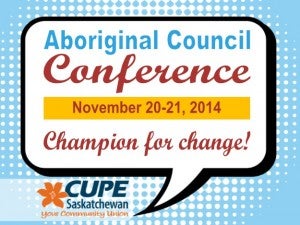 CUPE members from locals across the province are meeting in Prince Albert on November 20 and 21, 2014 for the annual CUPE Saskatchewan Aboriginal Council Conference. The two-day conference with the theme – Champion for Change – seeks to build union activism focusing on equality and rights for Aboriginal people in our workplaces and communities.
Conference delegates will learn about the privatization of community infrastructure through public-private partnerships (P3s), the recent sweeping changes to Canada's election rules by the Federal Conservative Government widely criticized by political parties and election law experts, and the initiatives underway in the union movement to inspire activism. Featured guest speaker Ernie Louttit, a retired sergeant with the Saskatoon Police Service and author, will share his life experience and advice on leadership. In addition, workshops will prepare members for activism and further their knowledge to stand up for fairness and public services.
Elections for members of CUPE Saskatchewan's Aboriginal Council Committee and the Aboriginal Member to CUPE Saskatchewan's Executive Board will be held at the conference.
NM cope 342