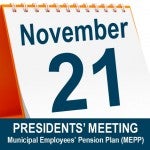 CUPE Local Presidents and Local Executive Members are gathering on November 21, 2014 in Davidson to discuss the Municipal Employees' Pension Plan (MEPP).
Recently, the MEPP has been conducting consultations on "future sustainability" with a survey containing proposed changes which may lead to undermining the defined benefit nature of the pensions provided by the MEPP.
WHEN: FRIDAY, NOVEMBER 21, 2014 (10:30 a.m.)
WHERE: TOWN HALL (206 Washington Avenue), DAVIDSON, SK
Lunch will be served.
Please RSVP to Nathan Markwart, Executive Assistant, by Monday, November 17, 2014.
NM cope 342