Labour Day Ride for Respect
Event Navigation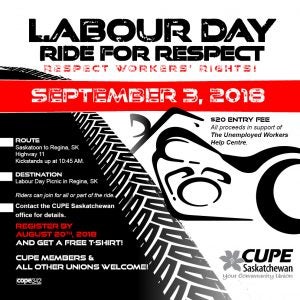 This Labour Day, Ride for Respect! CUPE members and members of other fellow unions from across Saskatchewan who ride motorcycle are invited to join in the Labour Day Ride for Respect on September 3, 2018.
The Ride for Respect is dedicated to promote respect for workers and their rights. Participating motorcycle riders will travel from Saskatoon to Regina, arriving at the Labour Day Picnic in Wascana Park – connecting one Labour Day celebration with another.
All proceeds are dedicated to support the Unemployed Workers Help Centre.
Register by August 20, 2018, and get a free t-shirt! CUPE members & ALL other unions welcome!
To register, complete the Registration Form and submit with entry fee to the CUPE Saskatchewan office.
---
Event details are as follows:
REGISTRATION:
10:30 AM in Saskatoon, SK at the Labour Day Picnic event in Victoria Park by Riversdale Pool.
Register at Victoria Park. Below is a map to the location for Registration.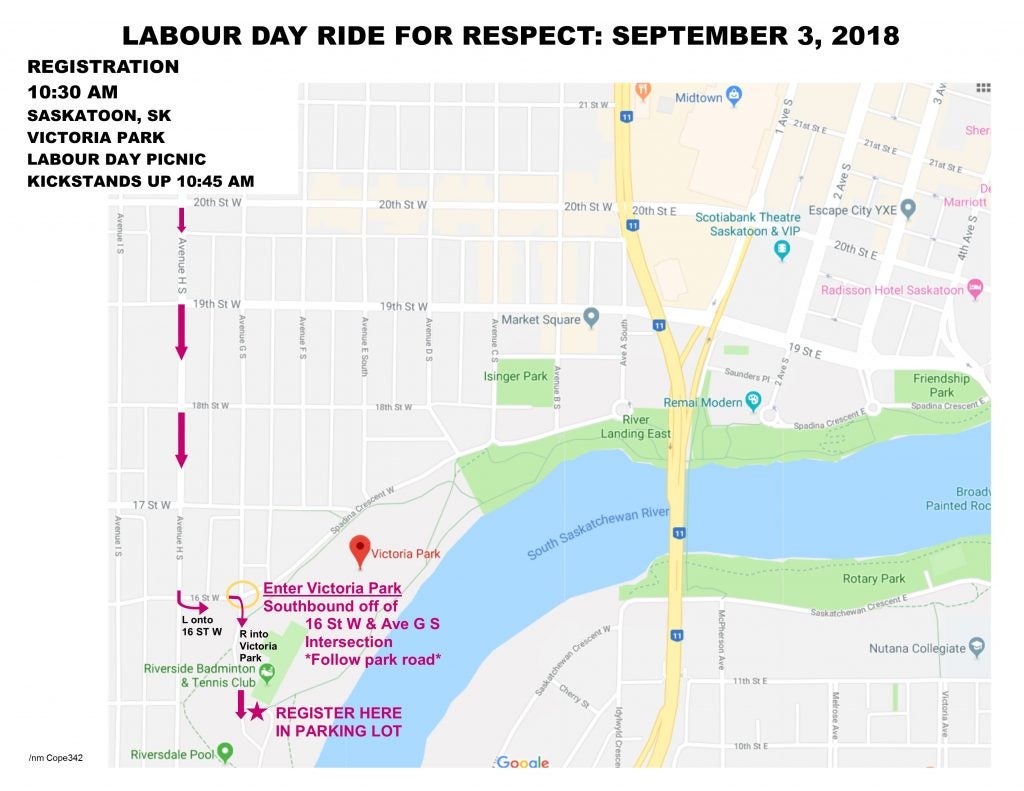 KICKSTANDS UP:
10:45 AM
Riders will embark together out of Saskatoon onto Highway 11 to Regina.
ROUTE:
Saskatoon to Regina, SK on Highway 11
Kickstands up at 10:45 AM.
Optional refueling stop in Davidson.
DESTINATION:
Labour Day Picnic in Regina, SK at the Legislative Lawns in Wascana Park.
Meet at the CUPE Saskatchewan booth for a group photo (at 3:00 PM).
Riders may join the ride when and where they wish, and riders can join for part or all of the ride.
For more information, contact CUPE Saskatchewan at 306-757-1009.