Founding Meeting for CUPE CBO Sector Committee
November 5, 2019

-

November 6, 2019
Event Navigation
The following notice was sent to all CUPE Local Unions in the CBO Sector across Saskatchewan.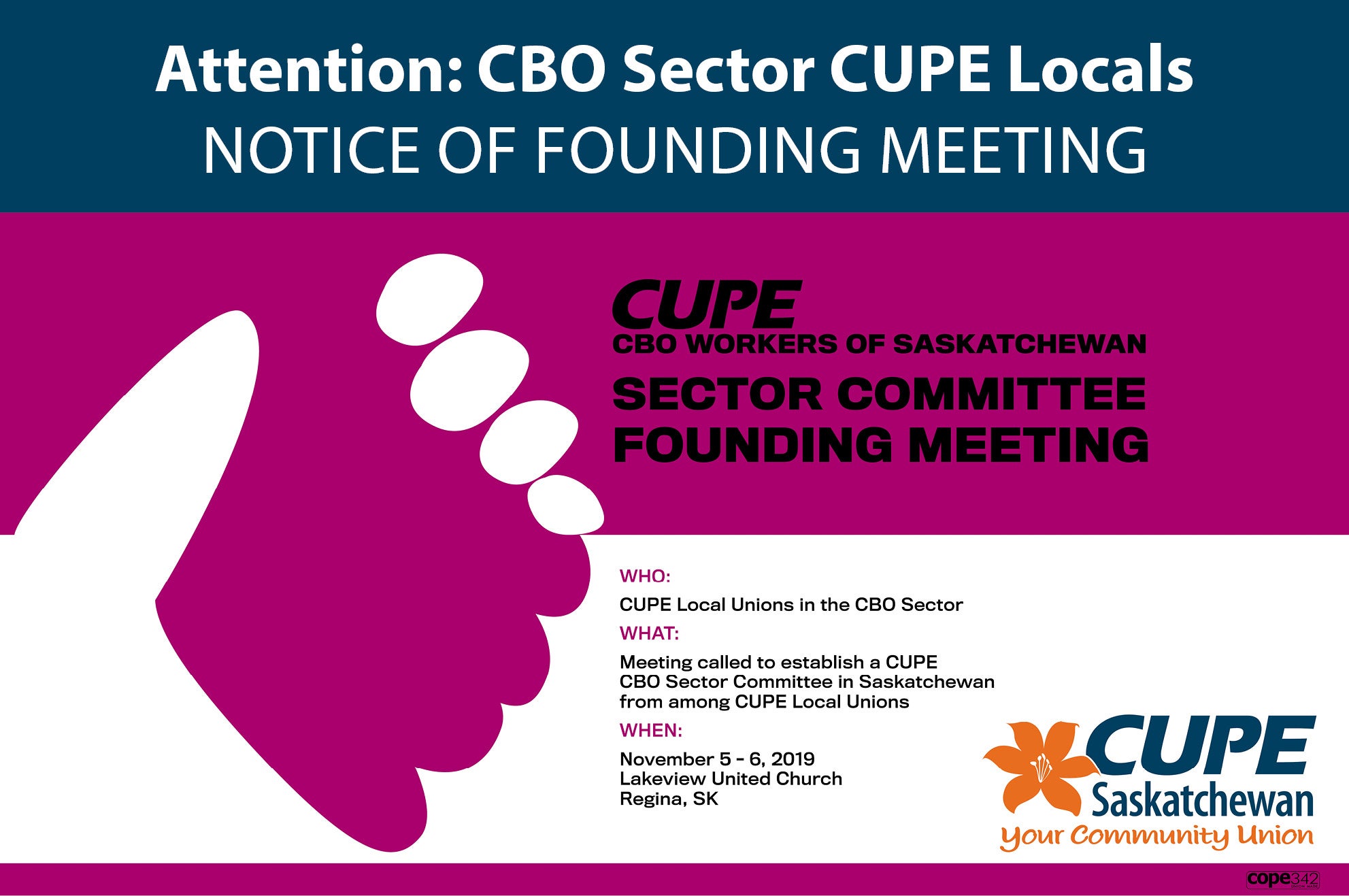 WHAT:
Notice of Founding Meeting to establish a CUPE CBO Sector Committee in Saskatchewan from among CUPE Local Unions in the CBO Sector
WHEN:
Tuesday, November 5, 2019
Registration: Noon – 1:00 p.m.
Call to Order: 1:00 p.m.
Meeting: 1:00 – 5:00 p.m.
Wednesday, November 6, 2019
CBO Workers' Appreciation Day!
Meeting to discuss the new CBO Sector Committee's Goals.
9:00 a.m. to 11:00 a.m.
Following the meeting, members are encouraged to attend the Legislative Building to join the tri-union effort to present a petition calling for multi-year stable funding for CBOs.
WHERE:
Lakeview United Church, 3200 McCallum Ave, Regina, SK
(Turn off of Albert Street onto McCallum)
REPRESENTATION:
For Local Unions with up to 25 members: 1 Delegate
For Local Unions with over 26 members: 2 Delegates
*Locals can bring additional representatives as guests at the local's expense.
WHY:
There are approximately 31 CUPE Local Unions across Saskatchewan in the community-based organizations (CBO) sector. By joining together in a CBO Sector Committee, locals in this sector can coordinate campaigns to push for improved government funding and better wages, share bargaining information and research on common issues (such as SARC benefit plans), and participate in political action on shared goals and initiatives as a united voice at a provincial level.
COST:
No registration fee.
CUPE Saskatchewan will assist with the costs incurred to attend the meeting for locals eligible through the Small Local Assistance fund.
REGISTRATION:
Send completed Registration Forms into the CUPE Saskatchewan Office by email to: j.reavley.cupe@sasktel.net
By mail: CUPE Saskatchewan, 3725 E Eastgate Drive, REGINA SK S4Z 1A5
Please register by: Friday, October 25, 2019
THE FOLLOWING DOCUMENTS WERE INCLUDED WITH THE FOUNDING MEETING NOTICE: