CUPE SK Indigenous Peoples' Conference 2023
Event Navigation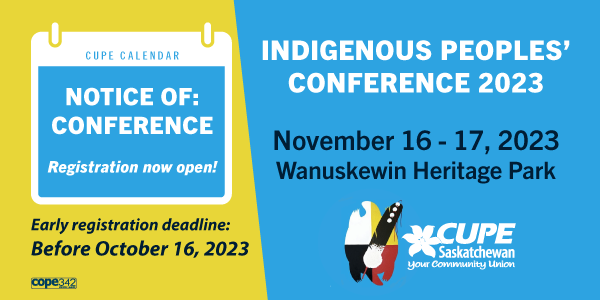 WHAT: CUPE Saskatchewan Indigenous Peoples' Conference 2023
WHEN: November 16 – 17, 2023
WHERE: Wanuskewin Heritage Park, 4 Penner Road, Saskatoon, SK
Early registration deadline is October 16, 2023. 
Open to all CUPE members, and members of other unions, the CUPE Saskatchewan Indigenous Peoples' Conference seeks to build union activism with a focus on equality and rights for Indigenous peoples in our workplaces and in our communities.
The conference will be held in-person on November 16 to 17, 2023, at Wanuskewin Heritage Park, 4 Penner Road, Saskatoon.
---
AGENDA
Thursday, November 16, 2023 (Full Day)
10:00 a.m. call to order until 5:00 p.m.
Friday, November 17, 2023 (Half Day)
9:00 a.m. until adjournment at approximately noon.
---
REGISTRATION & RATES
Early Registration – Before October 16, 2023
Affiliate $175 /person Non-Affiliate $200 /person
Regular Registration – After October 16, 2023
Affiliate $200 /person Non-Affiliate $225 /person
Registrations from out-of-province CUPE members will be accepted at the non-affiliate rates.
---
ACCOMMODATION
A group block booking is available at the Delta Hotels Saskatoon Downtown (405 20th St E). Book at this link before October 16, 2023.
---
ELECTIONS NOTICE
In accordance with the CUPE Saskatchewan Division Constitution, the following positions are to be elected at the conference:
Indigenous Council Members:
Two (2) Members for a two-year term.
---
/n.m. cope342