Fighting for Saskatchewan Rally on May 24, 2017
May 24, 2017 @ 11:30 am

-

12:45 pm
SGEU is organizing a big rally at the Legislature in Regina to tell the Sask. Party government Saskatchewan people don't want public service cuts, rollbacks and privatization!
CUPE will stand in solidarity!
Show your support, spread the word, and attend the rally!
FIGHTING FOR SASKATCHEWAN RALLY
What: Fighting for Saskatchewan Rally
When: Wednesday, May 24, 2017 at 11:30 a.m. – 12:45 p.m.
Where: Legislative Building, Regina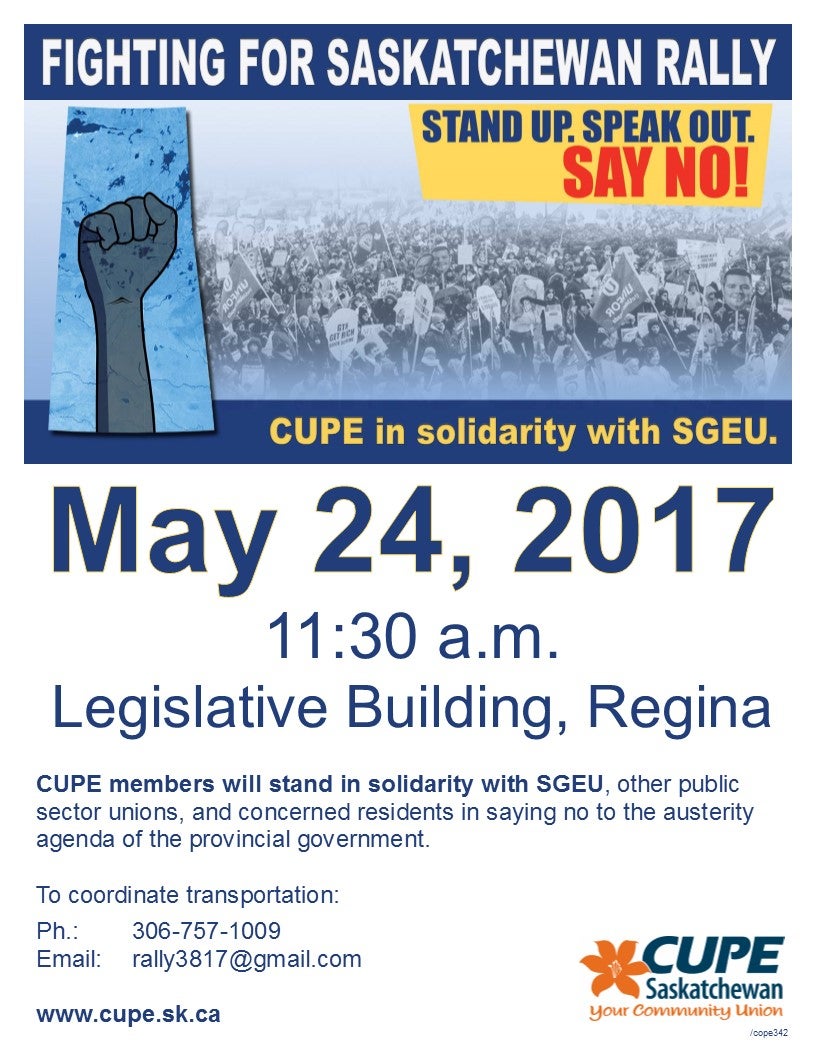 CUPE members and Locals are encouraged to contact Nathan or Jodi at the CUPE Saskatchewan office to coordinate transportation of members on SGEU buses, and if necessary, coordinate additional transportation requests.
To coordinate the transport of member groups from Locals, please contact the office directly at 306-757-1009.
CITY OF REGINA BUSES TO RALLY:
All buses leaving departure location at 11:15 am
All buses will transport passengers to the Legislative Building
All buses will return passengers to their original locations
Bus 1 – 1011 Devonshire Drive N
Bus 2 – 11th Avenue and Cornwall Street
Bus 3 – 11th Avenue and Cornwall Street
Bus 4 – 11th Avenue and Cornwall Street
Bus 5 – Broad Street and Victoria Avenue (Ramada Hotel)
Bus 6 – Broad Street and Victoria Avenue (Ramada Hotel)
Bus 7 – Broad Street and Victoria Avenue (Ramada Hotel)
Bus 8 – Wascana Rehab with stops at 3473 Albert Street, 3211 Albert Street and 3085 Albert Street
Bus 9 – Sask Polytech (Main Loop) with stop at U of R (Kinesiology Building)
Bus 10 – 2709 12th Avenue
OUTSIDE REGINA:
Estevan – Arrives: 6:30am at the parking lot near Wal-Mart; Leaves 7:00am
Fort Qu'Appelle – Arrives 9:00am at the parking lot near A&W; Leaves 9:15am
Melfort – Arrives 6:30am at the parking lot near Canadian Tire; Leaves 7:00am
Moose Jaw – Arrives 9:45am at the parking lot near Wal-Mart; Leaves 10:00am
North Battleford – Arrives: 6:30am at the parking lot near Wal-Mart; Leaves 7:00am
Prince Albert – Arrives: 6:30am at the parking lot near Marquis Inn and Suites; Leaves 7:00am
Saskatoon – Arrives: 7:30am at SaskTel Centre; Leaves 8:00am
Swift Current – Arrives: 7:30am at the parking lot near Wal-Mart; Leaves 8:00am (This bus will stop in Moose Jaw)
Tisdale – Arrives: 6:30am at the parking lot near Robin's Donuts; Leaves 7:00am (This bus will stop in Melfort)
Yorkton – Arrives: 6:30am at the parking lot near Gallager Centre; Leaves 7:00am (This bus will stop in Fort Qu'Appelle)
Weyburn- Arrives: 8:30am at the parking lot near Wal-Mart; Leaves 9:00am