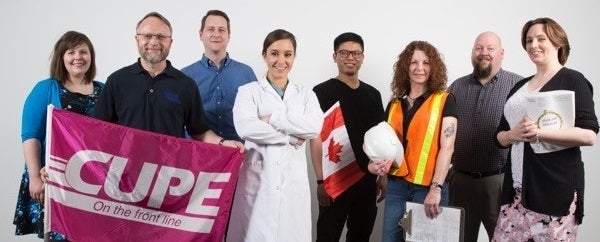 Every day, in towns and cities across Saskatchewan, members of the Canadian Union of Public Employees (CUPE) deliver public services that enrich people's lives and strengthen our communities. We are proud of the role we play in providing a reliable network of public services from one end of the province to the other.
CUPE Saskatchewan is a provincial division of the Canadian Union of Public Employees, and acts as the political voice of CUPE locals in Saskatchewan. CUPE locals affiliate to CUPE Saskatchewan.
Together, we stand up for fairness, resist privatization of public services, defend workers' rights, work to improve the political environment for collective bargaining, and provide CUPE locals with resources and educational opportunities.
CUPE Saskatchewan represents 30,000 members working in a variety of public service occupations including: health care, K-12 school system, universities, libraries, municipalities, community-based organizations, and various boards and agencies. CUPE is the largest union in Saskatchewan, and Canada's leading union.
Delegates from affiliated CUPE locals gather at the Annual Convention to decide on policy direction and to elect fellow CUPE members to leadership positions in CUPE Saskatchewan Division including a full-time President, members of the Executive Board, and three Trustees.
CUPE Saskatchewan employs two staff members to carry out its activities including an Executive Assistant to provide communications, research and governance support, and an Office Clerk to provide administrative support for its operations.
---
RESOURCES:
/nm cope342