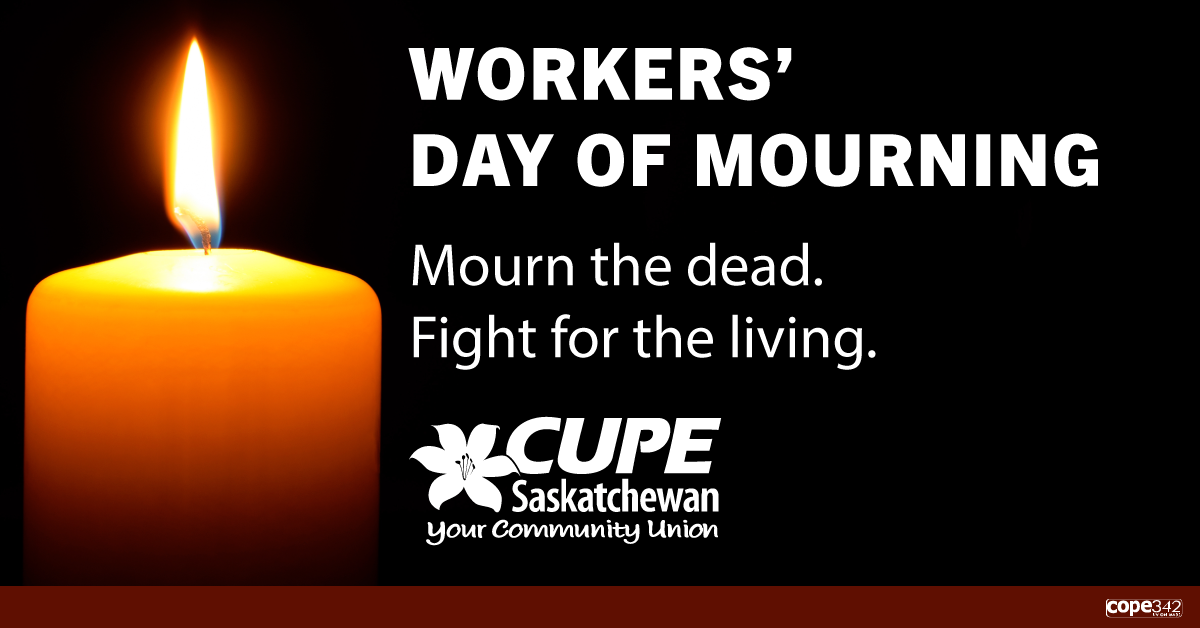 Today on the National Day of Mourning for Workers, we remember and mourn our co-workers, friends, neighbours and loved ones that were killed or injured on the job and those made ill from their work.
Last year, 31 workers in Saskatchewan lost their lives because of work-related incidents. This year marks the 50th anniversary of Saskatchewan's Occupational Health & Safety Act and the third year the Day of Mourning is observed during an ongoing pandemic. These anniversaries highlight the importance of advocating for improved workers' rights to safe working conditions and to ensure employers and governments are held accountable for work-related injury, illness and death.
Everyone is welcome and encouraged to attend the vigils being held across the province. More information available at: https://sfl.sk.ca/events/international-day-of-mourning
CUPE Saskatchewan joins with the Saskatchewan Federation of Labour (SFL) to call for increased worker safety protections, including:
Paid sick time for all workers
Proper PPE for all workers
Safe staffing levels in health care, education and public services
Increased fines and accountability for employers who fail to keep workers safe
---
Remembering your four rights
We must ensure that all workers know about the four workers' rights for health and safety:
The right to refuse work you believe is unsafe until an investigation can be carried out;
The right to participate in deciding what is safe in the workplace and to report hazards;
The right to know information on any hazard in the workplace that may cause harm, and how to prevent that harm; and
The right to be free from reprisal for carrying out any of the other rights or any other requirement of health and safety law.
---
The role of health and safety committees
Employers are legally obligated to collaborate with workers on health and safety committees to highlight issues and find safe solutions.
CUPE members are reporting several reoccurring problems, from regular meetings being held and minutes being available, to employers attempting to appoint union representatives.
We must remember that the health and safety committee is our forum to raise issues and make recommendations to employers. To that end, we need to re-double our efforts to build our capacity, to ensure that we document hazards, keep careful records, and report back to members when our employers refuse to remove hazards or control risks from hazards that cannot be removed. When all else fails, we need to ensure our documented concerns are sent to governmental inspectors so that workers stay safe.
---
LINKS:
/nm Cope 342