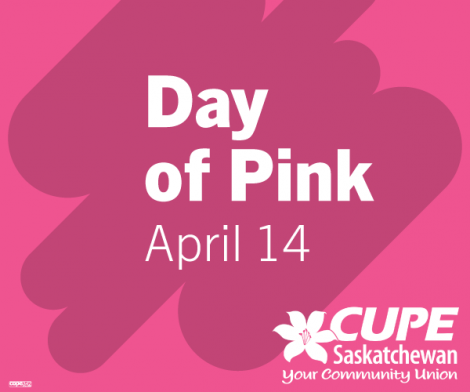 On April 14, wearing pink brings us together in solidarity to take action against bullying and to support the equality and inclusion of LGBTQ2+ members of our union and community.
This year's theme for Day of Pink is: Let's Say Game Over to Cyberbullying. Whether in our workplaces or virtual workspaces, school or our online classroom spaces during remote learning, communities or on social media, bullying is a serious problem. While online spaces and social media have connected us as we reduce in-person gatherings and stay apart, we know that these spaces are not always safe – and the pandemic has worsened inequalities and given rise to new incidents of bullying and violence that need to be challenged. Three in 10 respondents reported harassment in the workplace, and almost a third of all respondents reported experiences of online harassment, in a recent study conducted by Statistics Canada on the experiences of discrimination during the COVID-19 pandemic. CUPE has a long history fighting for equality and the right for every worker to be safe from bullying and harassment, and we continue to be leaders as a union in advocating for safer communities and equal access to public services.
CUPE members working with LGBTQ2+ seniors know the particular challenges this community faces. This year, CUPE has released a report, co-written with Egale and Carleton University, on safer public services for LGBTQ2+ workers and LGBTQ2+ service users. The report finds that working conditions for LGBTQ2+ workers are related to service conditions for LGBTQ2+ clients, and vice versa. It also identifies several promising practices to make public services more inclusive for LGBTQ2+ workers and service users, including employment equity and safety standards tied to funding.
This Day of Pink, let's take action to challenge bullying and build safer online spaces, communities, and workplaces.
In 2007, the Day of Pink began in the small community of Cambridge, Nova Scotia, when high school students intervened to stop homophobic bullying of a student in their school for wearing pink. The students decided to purchase pink shirts to wear in solidarity, and soon the entire school was wearing pink to take a stand for equality and to prevent homophobic & transphobic bullying.
LINKS AND RESOURCES:
Published by the Division Office /n.m. Cope 342