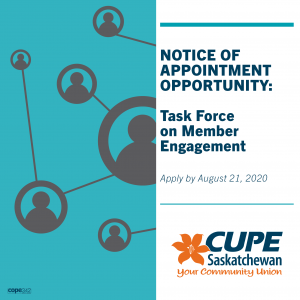 The Saskatchewan Division of the Canadian Union of Public Employees (CUPE Saskatchewan) is currently accepting applications from members of affiliated Local Unions to serve on the Task Force for Member Engagement. Applications for consideration of appointment must be received by no later than 5:00 p.m. on Friday, August 21, 2020.
CUPE members in good standing of affiliated Local Unions are eligible to apply.
---
POSITION OPPORTUNITY
Positions on the ad hoc Task Force on Member Engagement will be for a term ending March 2021.
The role will require attendance at periodic meetings called by the Chair.
---
CONDITIONS OF APPOINTMENT
The successful candidate must commit to attend meetings when and where required (periodic video conference meetings or conference calls). Union leave may be required to attend such meetings when called by the Chair.
Appointees will be compensated for lost wages through union leave from work when required to attend meetings, including costs and expenses related to the attendance of meetings (such as applicable per diems).
---
ROLE AND STRUCTURE OF THE TASK FORCE
Mandate
Resolution R-45 adopted by the 2020 Annual Convention of CUPE Saskatchewan directs the establishment of a Task Force on Member Engagement with the following mandate:
The Task Force on Member Engagement will explore and develop tactics and strategies to better engage CUPE members in their union. The Task Force will deliver a report to the 2021 CUPE Saskatchewan Annual Convention, as well as any related action items in the form of resolutions for members to consider.
Membership and Structure
The Task Force will have a maximum of seven (7) members appointed by the CUPE Saskatchewan Executive Board. Members of the Task Force must include a mix of Executive Board members, local leaders, and rank-and-file members that reflect the diversity of CUPE.
The Vice-President serves as the Chair of the Task Force on Member Engagement, with assistance provided by the staff of the CUPE Saskatchewan Division Office.
---
ELIGIBILITY FOR APPOINTMENT
In your application, you must demonstrate that you meet the following requirements:
You are a member in good standing of a CUPE Local Union affiliated to CUPE Saskatchewan.
You have adequate knowledge of the structure of CUPE and, specifically, the structure of the provincial division.
You have the support of your Local Union in submitting your application to serve on the Task Force indicated by the submission of a letter of concurrence (form letter available), signed by the President and/or officer of the Local Union.
---
How do I apply?
Candidates who wish to apply should complete and submit an application form along with accompanying letter of concurrence from your Local Union. Applications must be received by the Division Office no later than: 5:00 p.m. on Friday, August 21, 2020.
Results of the selection process will be sent to all candidates at the email address provided on their application. Please note results will not be communicated until after September 10, 2020.
/nm cope 342