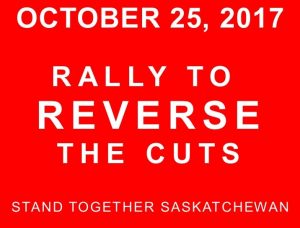 Rally at the Legislature on October 25, 2017. 
11:30 a.m. MARCH FROM ROYAL SASK MUSEUM
12:00 p.m. (NOON) RALLY AT THE LEGISLATURE
As the legislature resumes for the fall sitting, let's continue to stand against cuts, rollbacks, waste, scandal and mismanagement.
Join us as we rally in solidarity with other unions and concerned residents of Saskatchewan.
---
TRANSPORTATION – IN REGINA (Free)
ALL BUSES LEAVING DEPARTURE LOCATION AT 11:15 AM. BUSES WILL TRANSPORT PASSENGERS TO THE LEGISLATIVE BUILDING AND RETURN PASSENGERS TO THEIR ORIGINAL LOCATIONS.
BUS 1 – 1011 DEVONSHIRE DRIVE N
BUS 2 – 11TH AVENUE AND CORNWALL STREET
BUS 3 – 11TH AVENUE AND CORNWALL STREET
BUS 4 – 11TH AVENUE AND CORNWALL STREET
BUS 5 – BROAD STREET AND VICTORIA AVENUE (RAMADA HOTEL)
BUS 6 – BROAD STREET AND VICTORIA AVENUE (RAMADA HOTEL)
BUS 7 – BROAD STREET AND VICTORIA AVENUE (RAMADA HOTEL)
BUS 8 – WASCANA REHAB WITH STOPS AT 3473 ALBERT STREET, 3211 ALBERT STREET AND 3085 ALBERT STREET
BUS 9 – SASK POLYTECH (MAIN LOOP) WITH STOP AT U OF R (KINESIOLOGY BUILDING)
BUS 10 – 2709 12TH AVENUE
---
OUT-OF-TOWN TRANSPORTATION (OUTSIDE REGINA, SK) (Free)
NORTH BATTLEFORD
ARRIVES – 6:30 AM AT THE PARKING LOT NEAR WAL-MART
LEAVES – 7:00 AM
TISDALE
ARRIVES – 6:30 AM AT THE PARKING LOT NEAR ROBIN'S DONUTS
LEAVES – 7:00 AM
MELFORT
ARRIVES – 7:00 AM AT THE PARKING LOT NEAR CANADIAN TIRE
LEAVES – 7:30 AM
PRINCE ALBERT
ARRIVES – 6:30 AM AT THE PARKING LOT NEAR MARQUIS INN LEAVES – 7:00 AM
SASKATOON
ARRIVES – 7:30 AM AT SASK PLACE
LEAVES – 8:00 AM
YORKTON
ARRIVES – 6:30 AM AT THE PARKING LOT NEAR GALLAGER CENTRE
LEAVES – 7:00 AM
FORT QU'APPELLE
ARRIVES – 9:00 AM AT THE PARKING LOT NEAR A&W
LEAVES – 9:15 AM
SWIFT CURRENT
ARRIVES – 7:30 AM AT THE PARKING LOT NEAR WAL-MART
LEAVES – 8:00 AM
MOOSE JAW
ARRIVES – 9:45 AM AT THE PARKING LOT NEAR WAL-MART
LEAVES – 10:00 AM
WEYBURN
ARRIVES – 8:30 AM AT THE PARKING LOT NEAR WAL-MART
LEAVES – 9:00 AM
ESTEVAN
ARRIVES – 6:30 AM AT THE PARKING LOT NEAR WAL-MART
LEAVES – 7:00 AM
---
Planning to ride the bus?
Email your RSVP to:  
OR visit the following link: https://www.rallytoreversethecuts.org/events/rally-to-reverse-the-cuts/form
/cope342