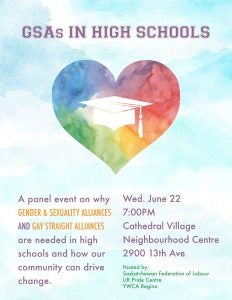 As a result of the horrific mass shooting and unimaginable hate crime that took place in Orlando just a few days ago, LGBTQ+ communities and allies are more than ever taking the issue of creating safe spaces and continuing education efforts very seriously.
The Saskatchewan Federation of Labour is partnering with the UR Pride Centre and YWCA Regina to host a panel discussion during Regina Pride about GSAs in High Schools.
This panel event is on why Gender & Sexuality Alliances / Gay Straight Alliances are needed in high schools and how our community can drive change.
Saskatchewan has no legislation about ensuring a GSA will be established when requested by a student, and the Education Minister has to-date resisted making it law.
Please attend this event to hear about why we need GSAs in high schools, hear directly from students about what their GSA means to them, and then learn what we can do going forward to support GSAs and Queer and Trans* youth.
Wednesday, June 22, 2016
7:00PM
Cathedral Village Neighbourhood Centre
2900 13th Avenue, Regina
Click attending on Facebook, and share the link with friends: https://www.facebook.com/events/635245163296112/
Download the poster here.